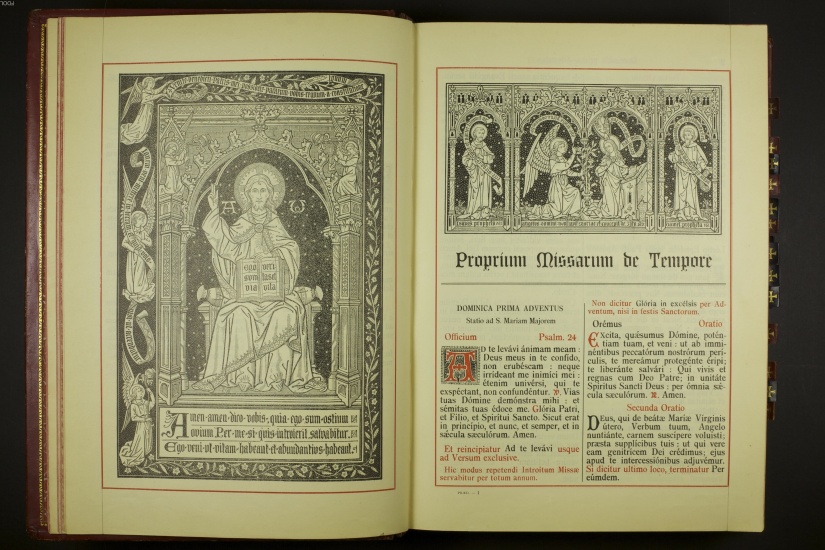 The holy season of Advent is upon us. It officially begins at First Vespers today. Personally, this is my favorite liturgical season of the year. The more deeply I have entered into the liturgical spirituality of this season, and that of Christmas as well, the more deeply I come to appreciate and love it.
The liturgy of Holy Mother Church bids us to "prepare". How do we prepare? Penance...fasting...almsgiving. In short, the liturgy of this season reminds us not only that our Lord is coming, but that our preparation for him must be nothing less than a complete conversion of heart and soul.
What a far cry the real season of Advent is from the unholy season of shopping, and coerced "cheer", which invades our materialistic culture at this time of year. Unlike the slow, patient, methodical approach of Advent...leading up to and culminating in the holy season of Christmas in the liturgical cycle, our culture dives in at breakneck speed immediately after the Vigil of All Saints Day. It is truly a tragedy, not only for our debased and pseudo-pagan culture, but for those poor individuals who, like Sisyphus of Greek mythology, "toil away", so to speak, in a futile search for happiness amid such empty consumerism.

Unlike the Roman Rite, in which there are proper antiphons for the Psalms, the Dominican Rite retains the ancient Roman custom of using the "

Psalms and antiphons from Saturday, as in the Psalter

". The proper of the Season of Advent starts with the Little Chapter from Jeremiah (Jer. 23), followed by the responsory proper to this Sunday:

℟

. The angel Gabriel was sent to Mary, a virgin betrothed to Joseph, to bring word to her; and the virgin feared very much at the light. Do not be afraid, Mary, you have found favor with the Lord. Behold, you will conceive and give birth to a child,

*

and he will be called the Son of the Most High.

℣

. The Lord God will give to him the throne of his father, David, and he will reign over the house of Jacob forever. – And he will be called. – Glory. – And he will be called.
This year, on the Sundays of Advent, I will be posting meditations on the season of Advent that were written by Fr. Sebastian Bullough, O.P. (1919-1967), noted biblical scholar and professor at Cambridge in England. They were published in The Tablet on the Sundays of Advent in 1954. They were reissued by Blackfriars Publications as a small booklet in 1955.



A blessed and spiritually fruitful Advent to all of you who read my blog, and to your families, as we prepare once again for the Coming of the Savior.